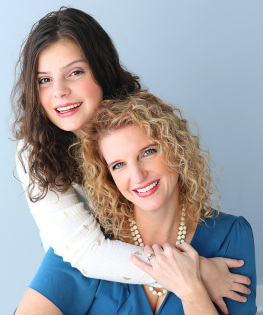 When her daughter, Lizzie, was diagnosed with autism at the age of two, Julie Hornok jumped into researching and implementing a thirty-hour-week home therapy program. This program treated Lizzie's behavior and speech, along with diet and medical interventions to heal her body. A few years later, as her daughter made good progress, she went through her videos and began a video blog  http://lizziehornok.blogspot.com showing Lizzie's progress to encourage others.
As a result of the video blog, Julie became the go-to-mom for helping parents with a new autism diagnosis and was honored to accept a position on the board of the National Autism Association of North Texas.
Now at fifteen years old, Lizzie is mainstreamed in school, on the high honor roll, is a cheerleader, in drama, was voted on homecoming court, and has held a paying summer job.  Lizzie functioning so well enabled Julie to put her energy into helping other families by creating United in Autism.  Through United in Autism, Julie brings free pampering events to autism moms around the United States.
Click here to view Julie and Lizzie on CW33's Morning Hope!