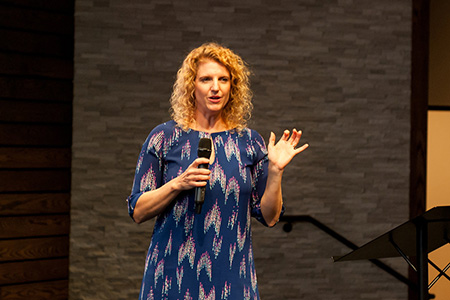 Julie speaks from the heart with honesty, humor and practical advice.  She addresses the tough stuff of life and will leave audiences inspired to become the best version of themselves.  She strives to provide interactive, fun, growth experiences to varied audiences on the topics of parenting and autism.
2018 Speaking Events

March 23           Plano, TX, LifePoint Church
April 19             Garland, TX, Spring Creek Church
September 10   Houston, TX, United in Autism Event with Hope for Three, Sponsored by Therapy and Beyond
September 17   Moscow, ID, United in Autism Event with Families Together
September 22   Richardson, TX, Region 10 ESC
September 23   Dallas, TX, United in Autism Event with AUsome Moms, Sponsored by Therapy and Beyond
September 29   Frisco, TX, Frisco Bible Church
October 1         Oklahoma City, OK, United in Autism Event with Autism Oklahoma, Sponsored by Therapy and Beyond
October 12       Frisco, TX,  Frisco Bible Church
October 22       Denver, CO, United in Autism Event with Autism Society of Colorado, Sponsored by Therapy and Beyond
Click Here for Julie's Speaking Engagement Form
Julie Hornok is a relatable, down-to-earth, and winsome speaker!  She has an amazing way of connecting with her audience as she shares stories and wisdom that are beautifully framed by her great sense of humor and her authentic transparency.
Julie's hilarious outlook, words of encouragement and real-life stories made this an entertaining, relatable and truly memorable event for so many parents and caregivers. It was a delight to work with and get to know Julie. She is a shining light in a world of darkness and denial.
There were so many things I enjoyed about the Moms Night. I appreciated Julie being candid about her journey and the laughs. I hadn't gotten out like that in a long time. When I got home I really reflected on the points she made, and I realized that I have shut myself off for such a long time. It's time for me to get back in the saddle and go to groups and events. I can support other mothers in their journey, and get support as well.
She has a real talent for speaking at the event, knowing exactly what moms of kids with special needs want to hear.
When Julie spoke to our group, we immediately felt like we were talking with a good friend. The type of friend who is warm, genuine, and doesn't try to sugar coat things. She was able to engage a large range of moms on a topic that either effected them personally or effects someone close to them. Julie was funny, sincere, and uplifting. We would highly recommend her for your next speaking engagement.
I was really excited to have Julie come speak to our MOPS group, but had no idea what we were in for. She was amazing! She left our moms feeling like they are not the only ones facing major parenting struggles and gave us simple biblical tools in facing them. Her calm, sweet, and honest testimony was not only refreshing but empowering.