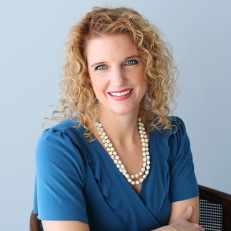 When her daughter, Lizzie, was diagnosed with autism at the age of two, Julie Hornok jumped into researching and implementing a thirty-hours-a-week home therapy program. A few years later, as her daughter made good progress, Julie poured her freed-up energy into providing emotional support events for special needs moms. Every year at these events, Julie searched to find the perfect book of inspirational stories to send home with the moms.
When she couldn't find it, she wrote it.
Julie interviewed inspirational autism parents from all parts of the spectrum, in all corners of the world and compiled their stories in her 2018 book release United in Autism: Finding Strength inside the Spectrum (Foreword by Dr. Temple Grandin). Her book opened the door to start the non-profit, United in Autism, which partners with local charities to bring community-building, emotional-support events to special needs moms all over the country.
Julie has also been published through Yahoo!, TODAY Parents, Scary Mommy, Love What Matters, Motherly, BluntMoms, The Mighty, That's Inappropriate, Parenting Special Needs Magazine, Autism Parenting Magazine, multiple Chicken Soup for the Soul books and many more national magazines and websites.
Awards and Honors: Mom's Choice Gold Award (2019), Writer's Digest Writing Competition Award Winner (2017), Named Autism Warrior in Autism Parenting Magazine (April 2018), AMAB Magazine Illustrious Award (2020), Making a Difference Award for providing real help and hope to the Autism Community (2015)
Other Appearances: CW33 Morning Dose, iHeart Radio, Newsy, The Chicken Soup for the Soul Podcast, Autism Live, Parenting Special Needs Magazine Podcast, Autism Helper Podcast, Marriage.com, DFW Child, Plano Star Courier