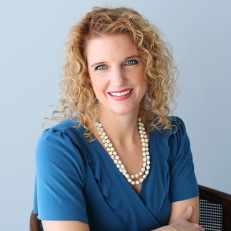 When her daughter, Lizzie, was diagnosed with autism at the age of two, Julie Hornok jumped into researching and implementing a thirty-hours-a-week home therapy program.
A few years later, as her daughter made good progress, Julie went through her videos and began a video blog (www.LizzieHornok.Blogspot.com) showing Lizzie's progress to encourage others.
As a result of the video blog, Julie became the go-to mom for helping parents with a new autism diagnosis and was honored to accept a position on the board of the National Autism Association of North Texas. She was also asked to blog for AutismSpot. Blogging regularly enabled her to encourage and help thousands across the globe through humorous, heartfelt stories about Lizzie and videos showing the therapies she was using to help her daughter progress.
Through AutismSpot.com, Julie discovered her love for writing. She has published short stories in multiple Chicken Soup for the Soul books, and her work has also appeared in Scary Mommy, Parenting Special Needs Magazine, Autism Parenting Magazine, The Mighty, That's Inappropriate and many more. Her first book, United in Autism: Finding Strength Inside the Spectrum released in October 2018.
Awards and Honors: 2017 Writer's Digest Writing Competition Award Winner, Named Autism Warrior in Autism Parenting Magazine (April 2018), Making a Difference Award for providing real help and hope to the Autism Community (Feb 2015)
Other Appearances: Newsy,  The Chicken Soup for the Soul Podcast, Marriage.com, CW33 Morning Dose, Autism Live, Parenting Special Needs Magazine Podcast