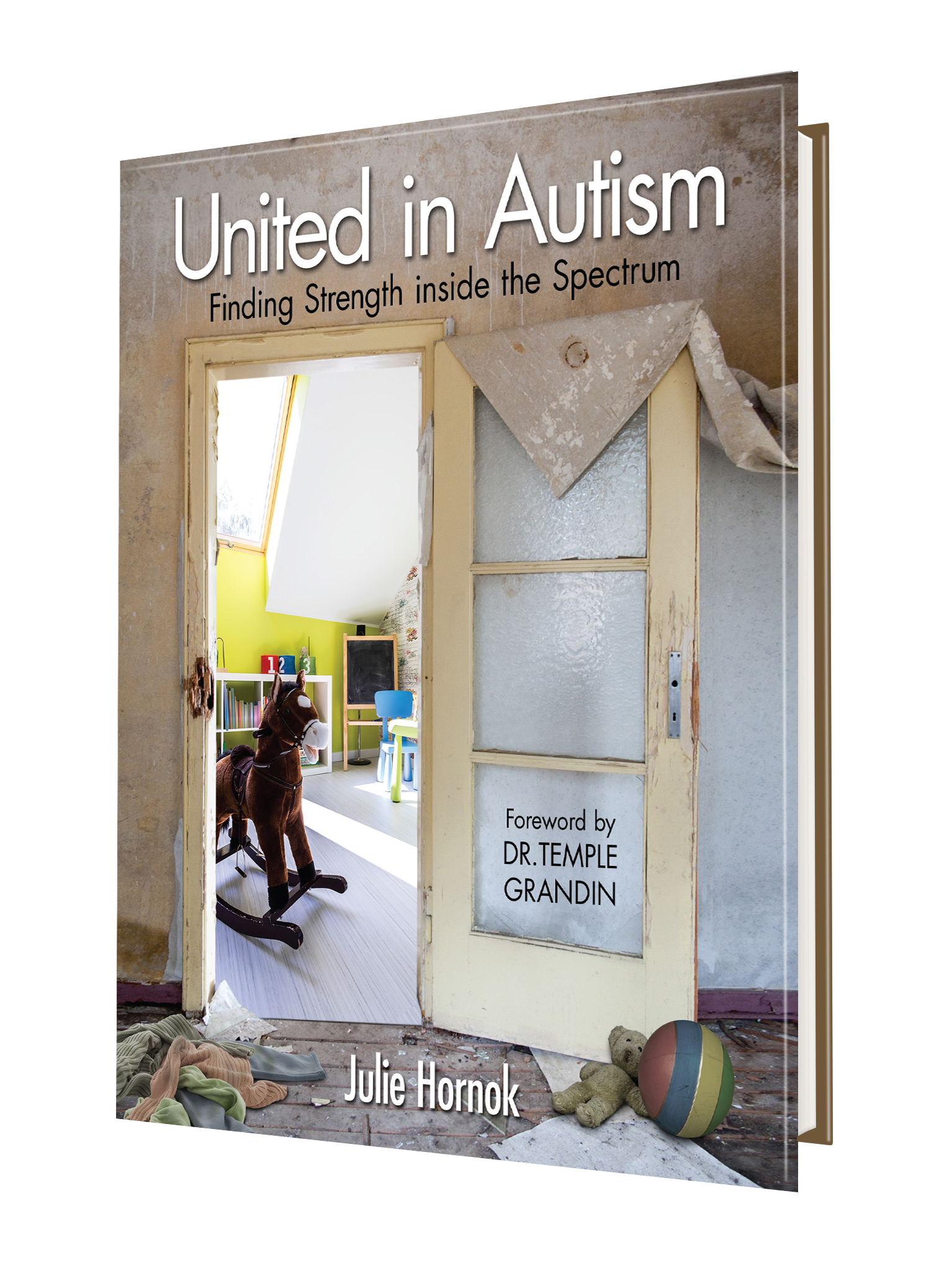 Book Release
United in Autism:  Finding Strength Inside the Spectrum
The book, United in Autism: Finding Strength Inside the Spectrum, brings together thirty inspiring and heartfelt stories from parents raising children from all places on the spectrum and from all corners of the world. These mothers and fathers have experienced some of the worst of what this disorder can do, but in seeking help, they found it…and more. Now they pay it forward, by sharing their accounts and giving back to the autism community. United in Autism: Finding Strength Inside the Spectrum (Foreword written by Dr. Temple Grandin) offers understanding, comfort and hope as well as global allies and strength to those who feel alone.
Buy Now
She (Hornok) interviewed 30 parents of children with autism, based everywhere from Missouri to Singapore...Each piece is concise, thought-provoking, and illustrated with at least one black-and-white family photograph…This book offers both lessons and hope. A well-written and reassuring set of true stories about autism.
"Wise," "authentic," and "knowledgeable" can hardly describe this beautiful book. To "listen" to parents from around the world describe their children, the conditions and attitudes toward autism in their countries, and their actions to improve lives is breathtaking. To better understand the inner world of an autistic child brings the reader to action in the outer world. Whether you have an autistic child or not, this author's work is motivating. Readers will thank Julie Hornok for bringing forth the voice of silence.
United in Autism provided me with security in accepting my son's autism and, at the same time, not giving up on getting better despite the challenge. One mom told her son, "You may have autism, but autism doesn't have you." Thank you, Julie Hornok, for providing this compilation of stories that give us hope, strength, and peace in autism.
United in Autism: Finding Strength Inside the Spectrum is a look into the lives of families around the globe sharing the experience of living with autism. Julie Hornok does an incredible job of curating the real-life stories of these fascinating children and their parents, and this book will undoubtedly open the eyes and hearts of all who read it.
Julie Hornok knows how to draw readers in, capture their hearts, and leave them inspired. I have had the privilege of publishing Julie's work in the autism community for many years and have witnessed the incredible difference her articles and blogs have made in the lives of thousands of families in more than 180 countries. Julie writes with a depth of honesty and passion that is hard to come by.